A Short Sale is an alternative to foreclosure that many people still don't fully understand. Attorney Dominic Silvestri has helped numerous clients short sell the home – even AFTER a so-called "short sale expert" either couldn't, wouldn't or failed to do so.
Although the market has seen marked improvement, there are still some areas where home values are depressed. In these markets, a short sale is an option that should not be ignored. Perhaps, you are still struggling financially and cannot afford to sell your home – even at today's prices. In theses cases, a short sale may be your best option.
Selling your home on a short sale does not have to be difficult, IF you know your legal rights. Attorney Dominic Silvestri has the necessary skills and resources to help you.
How many times have you submitted short sale documents to your lender only to be told after a month that they never received anything?
How many times have you been told that you have been assigned a "customer care specialist" – yet this person never "cares" enough to ever call you back?
Not sure how to put together a short sale package that your lender will not only review but approve?
Contact us and together we can prepare a plan of attack to protect your legal interests and get your short sale approved.
Some of the commonly asked questions about a short sale are:
1. How will this affect my credit? ANSWER: your credit will be affected. However, in many cases, the amount of time/delay for a short sale is what really affects your credit. Having an attorney that that can assist getting your short sale approved in the least amount of time possible, will help tremendously.
2. How long will a short sale remain on my credit report? ANSWER: While each case is different, most people see an improvement after 18-24 months vs. 7 years for a foreclosure.
3. How soon before I can qualify for a new mortgage? ANSWER: Generally, after a short sale, you should be able to qualify for a Fannie Mae/Freddie Mac backed mortgage loan within 18-24 months vs. 7 years after a foreclosure.
While each case is different, some general guidelines can be found below.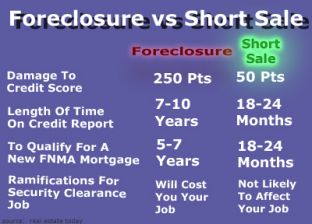 Before starting any short sale, here are some steps and resources that will help you and your attorney put together a plan of attack:
1. Determine whether Fannie Mae or Freddie Mac own your loan:
2. Obtain your lender's short sale forms: